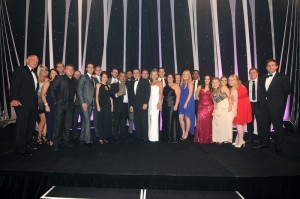 Directors Danny Zanella & Jerry Papaluca are proud to announce that for the seventh year running the team at Ray White Epping has been acknowledged for outstanding sales performance in value of property sold being awarded as a top 10 office at the gala Ray White Awards night at Docklands Melbourne. Brian White CEO congratulated the sales department for their ability to maintain this consistency over a long period of time as a true reflection of the dedication and pride the whole business has for itself and its customers.
The property management department were nominated for highest increase in growth with Danijela Pekic a finalist for excellence in business development in property management.
We extend our gratitude to all our clients who have supported us over the years. We also give an undertaking to strive to maintain a high level of business service and satisfaction on going.
AWARDS
2017
– No12 Office in Settled Sales (Vic/Tas)
– Local Agent Finder – No1 Agency for rental volume and value
2016
– No8 Office in Settled Sales (Vic/Tas)
– No1 Office Administration (Vic/Tas)
2015
– No9 Office in Settled Sales (Vic/Tas)
– No5 in number of Auctions Sold
2014
– Top10 Performer in Sales
– No2 Office in the North/East Zone
– No1 Property Management Team in the North/East Zone
2013
– No7 office (Vic/Tas) Settled Sales
2012
– No1 office (Vic/Tas) Property Management
2011
– No6 office (Vic/Tas) Settled Sales
2010
– No2 office (Vic/Tas) Number of Sales
– Auction history sold
– Settled Sales
2009
– No1 office (Vic/Tas) Number of Sales
2008
– Excellence in Recruitment award
– No3 office Auction listing sold (Vic/Tas)
– No3 office number of sales (Vic/Tas)
2007
– No5 office (Vic/Tas) Settled Sales
– No5 office (Vic/Tas) Settled Sales
2006
– Excellence in marketing growth (Vic/Tas)
– No3 office in auction listings sold (Vic/Tas)
– Business achievement award
2005
– No4 office in Auction listing sold (Vic/Tas)
2004
– No6 office in settled sales (Vic/Tas)
2003
– No9 office (Vic/Tas) Settled Sales
1998
– Commence business